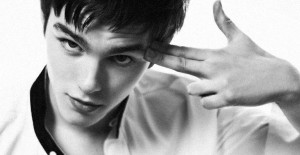 There has been a flood of actors joining Mad Max after the announcement of the films development. The film already stars Charlize Theron as the woman in Mad Max's life. Now many of the kids who starred in smaller films are also slowly becoming part of the cast. Nicholas Hoult is known for his role with Hugh Grant in About a Boy. He has shifted from the child like films to the risqué British series called Skins.
Nicholas was also seen in A Single Man most recently. In addition to that you will see him next year in Clash of the Titans. Mad Max will also have several other stars in negotiations like Zoe Kravitz, Teresa Palmer and Adelaide Clemens.
Little do we know about Hoult's character that is named Nux. Kravitz character is called Five Wives and Palmer and Clemens are in a convoy being chased by bad guys. Mad Max will be shot in a 3D blend of live action and animation. The last film was seen 25 years ago. The film will be directed by George Miller. He was also responsible for the original films.