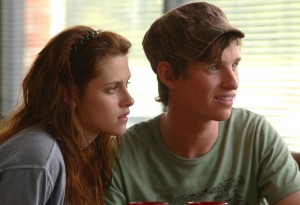 Kristen Stewart has been coming out with some really good independent film in the last couple of months. Here is another film from the strings of films coming out this year by the actress. Yellow Handkerchief stars William Hurt, Maria Bello and Eddie Redmayne. The film is loosely based on a short story by renowned writer Peter Hamill.
A love story at its core, The Yellow Handkerchief is about three strangers of two generations who embark on a road trip through post Katrina Louisiana. Along the way, relationships forge and change in a myriad of ways, leading to the possibility of second chances at life and love.
Click the images to enlarge
Brett Hanson (William Hurt) dealing with a painful past, crosses paths with Martine (Kristen Stewart), a troubled teenager ,and her new 'ride' Gordy (Eddie Redmayne). The trio head out together, each motivated by his/her own reasons: Brett must decide whether he wants to return to the uncertainty of his life and his ex-wife May (Maria Bello) for whom he longs, Martine yearns to escape her family and Gordy hopes to get close to her.
A deeply humanistic and emotionally rich film, THE YELLOW HANDKERCHIEF is directed by Udayan Prasad (MY SON THE FANATIC). Produced by six-time Academy Award® winner Arthur Cohn (THE GARDEN OF THE FINZI- CONTINIS, ONE DAY IN SEPTEMBER), THE YELLOW HANDKERCHIEF stars Academy Award® winner William Hurt, Golden Globe® nominee Maria Bello, TWILIGHT star Kristen Stewart and Eddie Redmayne (THE GOOD SHEPHERD). The film is loosely based on a short story by renowned writer Pete Hamill.