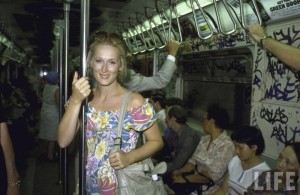 Now after garnering so many Academy awards and nominations Meryl Streep is still hungry for more. She is in talks to play Margaret Thatcher in Thatcher. The film will be directed by the people behind the lovable Mamma Mia. Her husband will be played by Jim Broadbent.
The film will be directed by Phyllida Lloyd. But this time around the script is not written by the talented Peter Morgan who is known for his work on The Queen. The film will try and examine the entire life and career of Thatcher, but analyze its subject through one point in history. It will include the 17 days that preceded the Falklands War in 1982. She lost a lot of her following after the massive unemployment rates, and also the infamous Irish hunger. It leads to several movies which were also against her policies like the recent Hunger and several others which concentrated on her bad career of sorts
It is a perfect role for Streep to take over and will go on to win a lot of acclaim for the woman. But it will probably also be quite dramatic which is not a good sign for the future of these biopics. Controversial figures are something what the Academy actually likes. But will the box office also ring true for this one like the last couple of hits Meryl Streep has had.