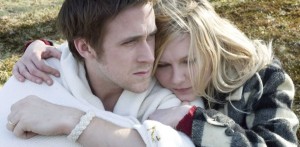 Kirsten Dunst will star in the upcoming adaptation of Andreas Portes' novel, Hick. She will be joining Chloe Moretz in the film, which will be playing a 13 year old Nebraska girl who gets more than she bargained for when she runs away to Las Vegas. The film will be directed by Derrick Martini. It will be another coming of age story for the director.
Dunst can be seen in the powerful Ryan Gosling starrer All Good Things. She is also set to star in Walter Salles' adaptation of the famed On The road and will also be seen in the Lars Von Trier Antichrist upcoming science fiction disaster film Melancholia.
Here is a small synopsis from Hick. Kirsten Dunst seems to be having the best time of her life with the roles she has been taking.
Portes's chilling debut tracks a 13-year-old Nebraska girl's hard-going life on the road. Young Luli knows losers—her "aging Brigitte Bardot" mother, Tammy, and her father, Nick, go at each other every night at the Alibi, the watering hole in hometown Palmyra, Neb. Tammy runs away one morning, and Nick soon follows, leaving Luli alone at home with the Smith and Wesson .45 her Uncle Nipper gave her. Pistol in tow, she hitches rides heading west to Vegas.
Source: Collider