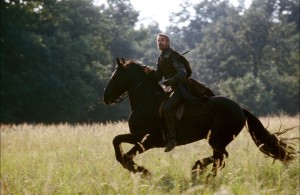 Jeremy Irons will be joining the cast of Wall Street thriller Margin Call. The film will be directed by J.C. Chandor. He will star opposite Kevin Spacey, Demi Moore and Zachary Quinto. But with this academic cast can they make some magic is the question.
The film also stars Paul Bettany who has come from some bad action flicks, Penn Badgley, Simon Baker, Stanley Tucci and Marry McDonnell. But the shooting for the film has been continuing without any issues. It is in its third week. It tells the story of the financial crisis of key players during a 24 hour period during the early stages of the crisis.
Jeremy Irons will be on board to play the chief executive of the film. But will this be a new trend we are seeing with several movies trying to get into the financial crisis and make movies with that. Some time back it was the Iraq war which did not really prove to be successful. So this route might prove to be something of a gamble as well. We will try our best and avoid these films which will be idealistic and a little dramatic.