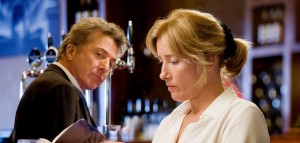 Dustin Hoffman will be feeling the pressure with his new TV series soon to be launched. The pilot will be directed by Michael Mann. He is known for his work on films like Miami Vice, Heat and Collateral.
The series will be a provocative look at horse racing. All the razzmatazz including owners, gamblers, jockeys and several key industry players will be seen on the screens.
The series has been picked up for a whole season even before it has come out. Here is what the HBO bosses had to say about this.
"Michael Mann delivered a pilot from David Milch's brilliant script that took our breath away," said HBO's programming president Michael Lombardo. "We are truly excited that these two artists, and our extraordinary cast headed by Dustin Hoffman, will be bringing Luck to life."
Dustin co stars alongside Dennis Farina, John Ortiz, Kevin Dunn, Richard Kind, Jason Gedrick, Ritchie Coster, Ian Hart, Tom Payne, Kerry Condon, Gary Stevens and Nick Nolte. This is certainly will be eye candy for the performers.