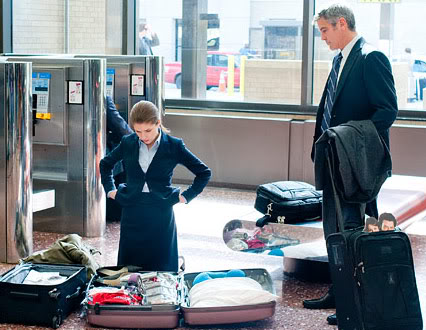 Up in the air is surely one of the most anticipated films of this fall season. George Clooney will be playing the lead and Anna Kendrick will be in tow. I think it is a great chance for him to do something that is a little more commercial in a good way. There is a whole lot of buzz behind this movie. Jason Reitman who is known for his work in Juno and Thank you for smoking is surely feeling at ease with this project.
The film is a story of a man whose job is to fire people. The film was initially a social satire but on the eve of the global crisis the tone was something of a dampener. It then shifted into familiar Oscar territory. So the film has gone through several script changes. Clooney has surely been excited with this project because of the tone of the film. But there are sources who say that this film has a sort of Jerry Maguire feel and is surely missing Tom Cruise in the lead.
Here is the official synopsis
Based on the novel by Walter Kirn (who also wrote Thumbsucker), Up in the Airoffers darkly humorous insights into corporate America and male mid-life crisis. Ryan Bingham (George Clooney) is a "career transition consultant" – essentially someone who fires people for a living. Hired by downsizing firms to make the personal, well, impersonal, Ryan, in his perfectly tailored suits and professionally remote manner, aces the task. Ryan's one real emotional investment is in his mastery of business travel. His goal is to reach that elite echelon of travelers who have achieved the ten-million-mile mark.
One day Ryan's boss, Craig Gregory (Jason Bateman), introduces him to their newest colleague, the aptly named Natalie Keener (Anna Kendrick), who wants to revolutionize the transition industry by using video conferencing out of corporate headquarters. Ryan is horrified, not only because this signals a trivialization of his skills, but also because his travel will stop. He offers to take Natalie on a road trip to show her how to "transition" face to face. As he mentors his new co-worker, he simultaneously juggles rendezvouses with Alex (Vera Farmiga), another business traveler who can match him club card for club card. What begins as a series of hotel hookups with Alex soon develops into something approaching a real relationship, and these emotional stirrings prompt Ryan to view the subjects of his firings in a new light.
I was not a big fan of the director's Juno. But I think it was Thank You For Smoking that put him on the map for me. So there seems to be lot of conflicting sources on this new movie of his. But since it sees him back in the corporate world there is no sign of worry. So we just hope someone just picks this up and makes it early November release for the movie.