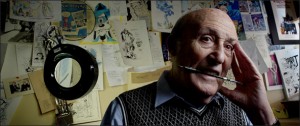 Will Eisner's influence on graphic novel has been in vain after the release of the silly film The Spirit. Eisner's best novel will be getting the translation to the big screen sooner than we think. There will be four directors joining in to make a Contract with God. The live action film will be done by Alex Rivera, Tze Chun, Barry Jenkins and Sean Baker.
The book is essentially the first illustrated story to break away from the comic book moniker to become the first graphic novel. It re-creates the neighborhood of Will Eisner's youth through a quartet of four interwoven stories which express joy, exuberance, tragedy and drama of life on Dropsie Avenue in the Bronx.
It will be a herculean task to adapt this film. But if they do get this right it will be something to watch out for. But after the Spirit episode it is not certain what to expect.
Source: Firstshowing