A heart-warming, soul touching Turkish film which received a well-deserved applause both before and after the screening at the Dubai International Film Festival in 2007. A very tightly woven film capturing the stories of the different characters as chapters and a common person intertwining the fates of the other characters.
Nejat (Baki Davrak), a Turkish professor at a German University doesn't seem to appreciate the idea of his widower father Ali's (Tuncel Kurtiz) choice of prostitute Yeter (Nursel Köse) for a live-in girlfriend. But he slowly begins to like her when he discovers she sends money home to Turkey for her daughter's university studies. Yeter's sudden death distances father and son. Nejat travels to Istanbul in search of Yeter's daughter Ayten (Nurgül Yesilçay). Ayten, a Political activist, has fled the Turkish police and is in Germany. She is befriended by a young woman, Lotte (Patrycia Ziolkowska), who invites rebellious Ayten to stay in her home, a gesture not particularly pleasing to her conservative mother Susanne (Hanna Schygulla). When Ayten is arrested and her freedom plea is denied, she is deported and imprisoned in Turkey. Lotte travels to Turkey, where she gets caught up in the seemingly hopeless situation of freeing Ayten.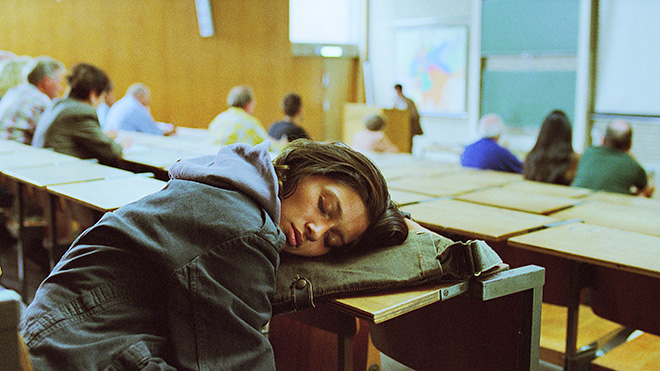 There is a common theme running in this movie and its that someone close to each character is missing. Nejat lost his mother young and father sent to prison. Ayten has a mother, tries to find her, when she is actually dead. Lotte has a mother but no father, and Susanne, Lotte's mother has feelings for Nejat as she doesn't have a son. The scene (picture on the left) where Susanne sees muslim men go to their prayers and Nejat explains to her the significance of it shows how close Susanne was to Turkey than she imagined.
The film is structured very well and at no time did the director lose his control and grip over his film. Many political issues were portrayed but i am not sure if the film tackled it well as main focus were on the characters. All the actors in the film have done a commendable job and at no point in the film can one say that there was any actor who was better than the other. They stuck to and fitted in perfectly for their roles.
The Direction by Fatih Akin is flawless. This film shows how helpless a human being can get, over a lot of missed chances. Each character seemed to be missing the other within few minutes. A slow-paced masterpiece is what best describes this film.