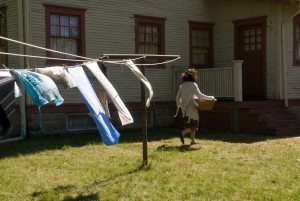 Peacock is a film we had written about couple of months back on Reel Suave. But after forming Talking Films nothing has really materialized on the films front. Finally we have got hold of some exquisite pics from the film. The film was shot sometime back. So we were expecting to see some pictures finally.
The film is directed by Michael Lander whose last film was a short called Solid Waste. His first feature film is called Peacock. The film stars Cillian Murphy, Ellen Page, Josh Lucas, Bill Pullman and Susan Sarandon and is evidently a dark thriller.
The film revolves around a quiet Nebraskan bank clerk with multiple personalities who finds his life in disarray when a train crashed into his backyard, revealing his secret to the public life. He must then attempt to get the town in thinking that these two separate lives are actually a married man and wife.
The synopsis has certainly got me hooked on to this. I can't really wait for this to come out. What a choice of stars for this film. Josh Lucas has describe this film as, "what would happen if Norman Bates has basically stayed alive and married himself. Shooting was completed back in 2008.
There is also an official synopsis which kind of contradicts some of the thought discussed above.
Cillian Murphy delivers a career defining performance as John Skillpa, a quiet bank clerk living in tiny Peacock, Nebraska. He prefers to live an invisible life. This might have to do with John's secret: he has another personality no one actually knows about. This one is a woman who each morning does his chores and cooks him breakfast before he starts the day.
There is a gallery of photos you can check out here by clicking the images to get the high resolution images seen above.
I think you guys should also check out the website for the film.