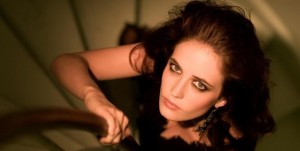 There is going to be an English language biopic for Maria Callas and it might just star the voluptuous Eva Green. There is no official name for this Gallic singer's biopic, but it has an interesting story.
She was called La Divina by her admirers. Callas was one of the most renowned opera singers of her time. She was known to have a difficult childhood and suffered quite a lot of abuse from her over bearing mother. Most of her life was spent in New York, but the moment she reached Greece that is when her musical education began.
She slowly began to make a name for herself in Italy. She began to be known for her versatile voice. She was not only a singer, but she was also great at stage. Callas was known for her rivalry with many contemporaries. She also was known to have a love affair with Artistotle Onassis who went on to leave her for the Kennedy. She also had a staggering weight loss which had an effect on her voice and died in 1977.
Eva will really have her hands full with this one, but going by her performance in Cracks she can easily pull this one off. The Italians will be producing the film and Swarovski will be jointly producing the film as well.