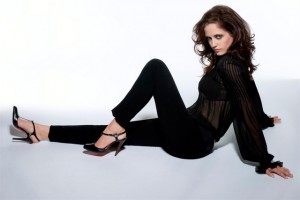 Eva Green has been playing some excellent characters in her last couple of films. She will be seen along with Lea Seydoux and Gerard Depardieu in the film Farewell, My Queen, an adaptation of Chantal Thomas novel of the same name.
Farewell, My Queen will be directed by Benoit Jacquot and will see Green as Marie Antoinette, while Seydoux will play a reader to her royal majesty. Depardieu's role is still not known.
Here is a small synopsis via Heyuguys
A woman whose function it once was to read books aloud to Marie-Antoinetteis haunted by the memory of her last days at the French court of Versailles, when Louis XVI's magnificent palace succumbed to the irrepressible forces of revolution. Now exiled in Vienna, Madame Agathe-Sidonie Laborde looks back twenty-one years to the legendary opulence of Versailles and, overcome with nostalgia and remorse, discovers the full measure of her fascination with the Queen she served.

Transporting us to eighteenth-century France with the skill of a consummate storyteller, Chantal Thomas meticulously re-creates the miniature universe of Versailles, brilliantly juxtaposing its beauty and its dawn-to-dusk ritual with the chaos that erupts. Her portrait of Versailles and of Marie-Antoinette is an incomparable account of the collapse of a lost world.
We will be keeping a close watch on this project because of the presence of Eva and Lea Seydoux in the same film.