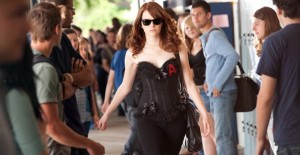 She will be joining the director once again for another teenage romp comedy. Will Gluck has just signed a deal to work with Emma Stone on another comedy. The film will be in production next summer.
Gluck has not really written a script so this will be a first time for him. Gluck is right now hard at work on the post production for his next Friends with Benfits. The trailer did not really look that funny but its raunchiness will get the crowds in.
It will be interesting to check out what he will be doing next with Emma Stone. Emma on the other hand will be busy with Spiderman in the coming months. So we will keep you posted on the developments.