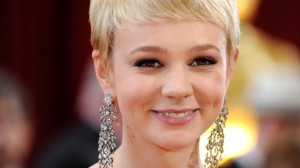 She is one of the front runners in the Baz Luhrmann ambitious epic. The popular F.Scott Fitzgerald's 1925 classic The Great Gatsby. Here are some of the news clips from Deadline.
Mulligan was on the reception line for The Fashion Council Awards in New York when she got the call on her cell phone from Luhrmann, just a few minutes ago. She burst into tears on the red carpet in front of Karl Lagerfield and Anna Wintour. This all occurred shortly after Luhrmann showed the audition footage to Sony Pictures Entertainment execs Amy Pascal and Doug Belgrad, who were impressed by Mulligan's command of the character played in the 1974 film by Mia Farrow.
Mulligan was a late entrant to an elite list of actresses that Luhrmann met with while he conducted readings with Leonardo DiCaprio, who'll play Jay Gatsby. Tobey Maguire is expected to play his friend, Nick Carraway, who narrates the tale.
The rest of the cast is still not announced. This will be a huge challenge for the director since the last adaptation of the film was a real disappointment.