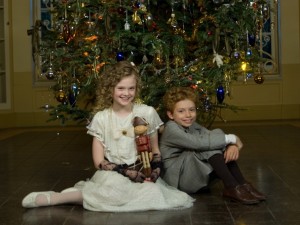 The new Russian pic by director Andrei Konchalovsky is looking quite intriguing and confusing as well. It stars Elle Fanning, but they all seem to speaking different languages.
The film follows a nine year old girl Mary who's dull Vinnese Christmas is suddenly filled with excitement and adventure following the arrival of her beloved Uncle Albert played by Nathan Lane and his gift of an enchanted Nutcracker.
The Nutcracker begins to make some changes around her boring Christmas week. He takes Mary on a journey into his magical world of fairies, and various Christmas toys. Evil is lurking everywhere in the form of the poor John Turturro and his devious Mother.
Mary and her new friends have the task to uncover the secret of the Rat King to rescue NC and his kingdom. It is based on the story that inspired acclaimed Russian composer Piotr Tchaikovsky to create the music for the iconic ballet. The film will be expected out on November 24 th. We will certainly watch out for this one.