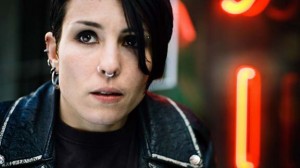 Noomi Rapace has been getting a lot of work lately in the Hollywood. Cahterine has been going through a lean phase bringing out these really crappy horror love stories. It was mainly concentrated on the kids and crazy teenagers. But she is famous among the indie circles for her powerful film Thirteen.
Catherine had this to say about the project "It's in Sweden and Germany, and it's really wild. I can't quite talk about it, but we'll probably do the announcement in a couple of weeks.  It's a very fun, very crazy story that goes back to more of my Thirteen days. It's more indie, raw and gritty, and it's a true story."
Her next project will be directing the powerful Noomi Rapace in a biopic of Swedish singer Anita Lindblom. Rapace and her husband Ola have been developing the project for a while now. Ola has also been working out to get fit to play Bo Hogberg, a champion boxer for this film who has a relationship with the singer. Hardwicke will probably revitalize her image with this new movie.