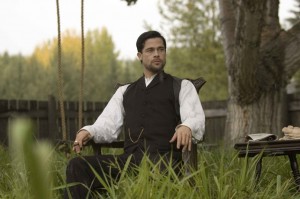 There are very few people who are institution just with their names. Brad Pitt is one man who knows the power of his name. He uses to create stuff that makes sense to Hollywood. There has been news about the veteran actor probably appearing in The Hatfields and The McCoys a retelling of the legendary 19 th century family feud. The film will be written by Eric Roth and directed by Scott Cooper.
Duvall gave out news that Scott who has approached Brad Pitt for his next film. So that Brad Pitt can produce the film and make it happen. Scott Cooper will be bringing his frequent collaborator T-Bone Burnett who will take charge of the music.
The story follows the Hatfields, who lived on the Kentucky side of Tug Fork, and the McCoys, who lived on the West Virginia side. After Asa Harmon McCoy, who fought for the Union in the Civil War, was murdered, the Hatfields were suspected, although never convicted of any crime. This was more like the beginning of the end. Another row over a pig again ended in murder, which escalated into a feud that claimed the lives of a dozen members of the two families over a decade. There have been affairs that have happened between members of rival families.
It is one of those stories that will make every American to see on the big screen. It will be interesting to see what Scott does this story. There was an older film on this same time called Roseanna McCoy told the story of the star crossed lovers, and there was a TV movie in 1979. But the biggest challenge in this one will be the large cast and the inclusion of Brad Pitt.
Duvall really wants Pitt to play the main guy. He might play Randall McCoy. But I want to see an outsider point of view for this film. Instead of taking the beaten path they should experiment with point of view. Pitt is right now working in Moneyball and also is part of the Important Facts. There is also a change that he might work for David Fincher for Girl with the Dragon Tattoo.
So this new development will put him once again in the same world as The Assassination of Jesse James by the Coward Robert Ford. That was truly an unforgettable performance.