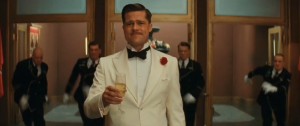 Terrence Malick has been working on his last film for some time now. The Cannes organizers had seen Tree of Life and felt it was not really finished. It was really a disappointment but it was for the good of cinema. The film stars Brad Pitt and Sean Penn in the main roles. There have been vague references to how the story is going to be. But no one really wants to put their finger on it.
There was some spilling the beans on how the story was going to be for the film.
It is a deep story about love, how you transmit love, through your family; from the parents to the children. And the evolution of mankind…since the creation; Terrence is known for his transcendental work. But will this film give him the option of moving into the unfamiliar. Will it be a film like the ones he used to create before?
But with the exclusion of the film from Cannes Film Festival it will be something really to look forward this year. Brad Pitt had this to say about the film.
"It's this little tiny story of a kid growing up in the '50s with a mother who's grace incarnate and a father who's oppressive in nature. So he is negotiating his way through it, defining who he's gonna be when he grows up. And that is juxtaposed with a little, tiny micro-story of the cosmos, from the beginning of the cosmos to the death of the cosmos. So that's where the sci-fi – or the sci-fact – comes in."
There are so many cosmic elements that will play out. There will be thoughts on death and after life being discussed at the background. The film revolves around this father son relationship and a tragedy that befalls the family. It tells the story of a father in the 1950s and his son Jack played by Sean Penn, now grown up decades later. We slowly begin to uncover some of the most powerful moments in cinema where lessons of unselfish love and forgiveness will be reverberating through the frames.
Pitt also told about Heath Ledger who was initially said to have starred as Brad Pitt in the film. But after a while he had to go away from that because of some personal reasons. There was news that he wanted to stay with his daughter and spend some time with her. After the Dark Knight Role took a lot from him and for which he won the Oscar. There were some sources also saying there was a possibility that Heath was not really fit for the role.
But surely Tree of Life will be going to come out this year. But no one is really certain. We are ready to wait for it till the end of our lifetimes.