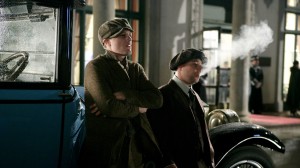 HBO has come out with another trailer for Terence Winter's writer series called Boardwalk Empire. Martin Scorsese expressed interest in the series and he ended up making the pilot for the series. He has also wished to go ahead and make some more episodes for the series.
The series has Steve Buscemi playing the undisputed ruler of Atlantic City and town treasurer. He will be playing Enoch Nucky Thompson who is described as a political fixer and backroom dealer who is equal parts politician and gangster and equally comfortable in either role.
The trailer reveals a powerful struggle going on in a city which is wrought with violence and sex. The series is written by the man behind shows like the Sopranos Terence Winter. It shows America during the dawn of Prohibition when the sale of alcohol became illegal throughout the United States.
The town is a hub of activity for rum runners, minutes from Philadelphia, and hours from New York City and less than a day's drive from Chicago. And Nucky Thompson takes full advantage in HBO's Boardwalk Empire.
There is loads of other characters played by powerful performers like Michael Pitt, Michael Shannon and Michael Kenneth Williams as well as Gretchen Mol. So this will be something to watch out in the small screen.