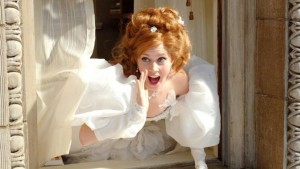 Enchanted was one of my favorite musicals in the last couple of years.I think I m a big fan of Amy Adams. I'm really not sure where she is headed right now. But this film made me smile.
A live action sequel for the film is in the works. The plans took quite sometime to start but finally we have word of screenwriters for the film. Disney has hired Jessie Nelson to pen the screenplay for the film which will be directed by Anne Fletcher.
Nelson's credit include Stepmon, The story of Us, I am Sam, Because I said so and was working on Fred Claus. Fletcher on the other hand is known for his work on films like Step Up, 27 Dresses and the Proposal.
The original film had Amy Adams playing Giselle, as a Disney princess who becomes banished from her animated fantasy land by and evil queen, and is left to fend for herself in live action modern day Manhattan. An official synopsis for the sequel is yet to be released.