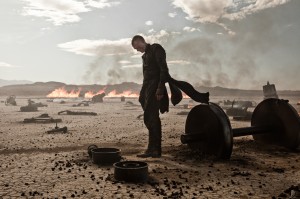 The trailer is out for next year's vampire flick called Priest. The film might remind you of Legion, but it is not the same.

Priest Trailer
Uploaded by teasertrailer. – Full seasons and entire episodes online.
The film stars Paul Bettany, Cam Gigandet, Maggie Q and Karl Urban. It tells the story of a warrior priest who disobeys Church law by teaming with a young sheriff and a beautiful priestess. The three band together to track down a band of renegade vampires who have kidnapped the priest's niece before they turn her into one of them.
The premise is nice, but the direction will matter in this one. The film will be released on May 13 th 2011.