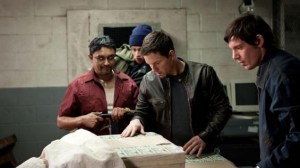 The official trailer is out for another forgettable action film starring Mark Wahlberg. He still thinks he has the star quality within him. The film is directed by Baltasar Kormakur.
The film also stars the sexy Kate Beckinsale, Caleb Landry Jones, Ben Foster, the irratating Giovianni ribisi, Lukas Haas and Talking films favorite Diego Luna.
The film is about Chris played by Wahlberg for comic relief I guess. He has long abondoned his life of crime, but after his brother in law, Andy, botches a drug deal for his ruthless boss, Tim Briggs. Chris is forced back into doing what he does best running contraband to settle Andy's debt. Chris is a legendary smuggler and quickly assembles a crew with the help of his best friend, Sebastian, to head to Panama and return with millions in counterfeit bills.
The premise is perfect for something really stupid to happen and lot of silly people ending up in the theaters watching it. Tell us what you think of this horrible trailer.