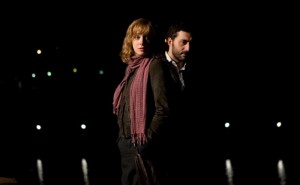 This film was one of the surprises at the recent Toronto Film Festival. La Doppia Ora deals with a double murder and it is directed by a debutant Giuseppe Capotondi. The film has already been released in Italy with a lot of critical acclaim.
It tells the story of Sonia who hails from Ljubjiana and works as a waitress. Guido on the other hand is an ex policeman and works as a guardian at a villa. They meet on a speed date. He is regular in the dating circuit. But for her it is the first time. They begin to start a relationship as soon as they meet. They slowly reveal different sides of each person's character. But it seems ok and when they are about to fall in love Guido dies. The incident happens when Guido was trying to stop someone from entering the villa. But the sudden death of Guido leaves Sonia alone once again. It reaches a point where some people begin to suspect her for this tragedy. But it is only revealed later on why all this is happening and who Sonia is really.
The trailer is one of the best I have seen in some time. Check out the mood the director creates in this film.