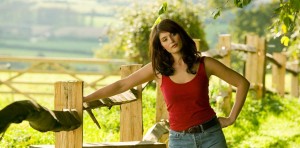 This one of the weirdest graphic novel adaptations by Stephen Frears and it stars Gemma Arterton. Here is a new UK trailer for the film. The film is a total ensemble piece with a really good cast, but didn't do really well at the Cannes Festival.
The film is a modern take on Thomas Hardy's book titled Far From The Maddening Crowd. The film was a little too breezy for many people's taste. It won over the audience, but did not register with the jury.
The film is still working onits marketing around Gemma Arterton and it's crazy humor. Check out the Synopsis for the film via Playlist.
Acclaimed director, Stephen Frears (THE QUEEN) brings to life Posy Simmonds' comic strip, serialised in The Guardian from 2005-2007, starring Gemma Arterton (ST TRINIAN'S, QUANTUM OF SOLACE) as glamorous newspaper columnist Tamara Drewe and Dominic Cooper (MAMMA MIA!, AN EDUCATION).
Once a shy and unattractive teenager from a small rural idyll, Tamara's past catches up with her when she returns to the village and has to face an old flame. With a rock star boyfriend back in London she gets caught in a love triangle and becomes the focus of gossiping locals.
The film is expected to come out in US on October 8 th.