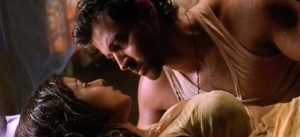 The second theatrical trailer of this beautiful shot revenge film Agneepath is out. It probably looks better than the previous one. There is the usual Bollywood silliness but in the midst of it there are some gorgeous moments. A song has also been released with the movie that looked equally stunning. So it will be something to look out for in the theatres. The doubt will surely be whether this movie will have any meat at all. Nothing is really clear from the trailer.
It is a remake of popular film of the same name. The old film was quite silly and it boasted some horrible dialogues by Kader Khan. The film stars Hrithik Roshan, Priyanka Chopra who are like big stars in Bollywood. They are supported by heroes like Sunjay Dutt and Rishi Kapoor who have taken up some unique roles and getups for the film.
The film is produced by Karan Johar whose dad directed the original film. It was directed by Karan Malhotra who is relatively unknown. It will be a visual feast and hopefully will have something thoughtful to bring to the table.