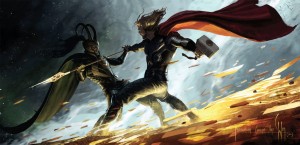 Chris Hemsworth and Tom Hiddlestone are both working on the Avengers film and it is getting ready for release next year. Thor 2 is also now in the works with a new writer and director. Kenneth Branagh is out of it for a second time.
The film is expected to hit theaters on July 26 th 2013. Hemsworth is confirmed for the sequel of the film. Don Payne will be writing the new film and will be returning from the first film. The material was handled with a lot of care in the able hands of Kenneth. He really brought out something watchable on to the screen.
The director's chair is something to check out. The studio should be really carefull who they get as the director for the film. There are plenty of very capable directors out there who will be make this material work. Thor was special and I hope they get a good director.