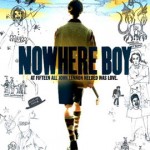 Nowhere Boy has finally debuted with a poster and some pics with the supporting cast. The film should not be here by next year. But it will get loads of the Beatles fan boys to come to theatres.
The film was picked up by the Weinstein Company in March. But due to all the financial constraints of our times the film has been pushed back to next year. There have been several other movies being pushed around like Youth in Revolt and Shanghai and the Ryan Gosling starring All Good Things.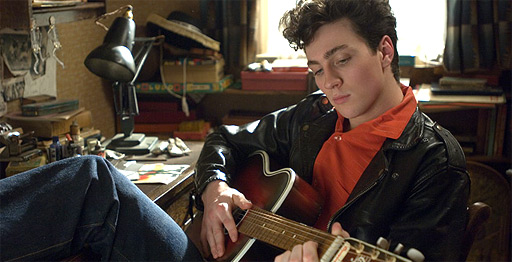 We have several pictures come out for the film and also a poster has just debut. The only info we have is mostly about the soundtrack that will feature Goldfrapp. The film will go back before the Beatles period and will talk about the young John Lennon growing up as a teenager. The young John Lennon will be played by Aaron Johnson while Paul will be played by Thomas Sangster. The best role of the mother will be played by Kristen Scott Thomas. It was written by Matt Greenhalgh, the screenwriter who penned the caressingly flawed Ian Curtis biopic Control.

Aaron's going to be a star, one of the producers of the film heralded. "He's playing someone we all think we know everything about. He's got to have a confidence and sense of destiny, but he's also a mixed-up teenager whose family is throwing him all over the place. Aaron's got an emotional understanding, for his age, that's just mind-blowing. And he does stillness very well."
Hopefully this will get the critical admiration that will ensure a Academy showing next year.