Adapted from Japanese writer Keigo Higashino's The Devotion of Suspect X, Sujoy Ghosh's Jaane Jaan is a crime thriller that is a cat-and-mouse game between a brilliantly manipulative mathematician and a determined detective. It has one engaging scene after the other to provide the viewers with a tale where nothing is as it seems at every turn. As one story branches off into another, the slow unraveling of mysteries and the sly withholding of information provide the film with a sense of intrigue until the very end. The story arguably has something to say about the immoral acts that attraction and affection can sometimes make us complicit in. While navigating the complexities of human nature, delving into the depths of desire and the blurred lines between right and wrong. But as the film reaches a resolution, it does not leave the audience questioning their own moral compass and reflecting on the power of desire in shaping our lives. Instead, it simply serves as an entertaining and thrilling storyline that lacks the complexities of a well-organized plot with deep character development and intricate subplots.
Maya D'Souza (Kareena Kapoor) runs a cafe in Kalimpong, a hill town located in the Himalayan foothills of West Bengal. She is a single mother, and her thirteen-year-old daughter, Tara (Naisha Khanna), is a student at a primary school. His neighbor, Naren (Jaideep Ahlawat), a teacher by profession, is a frequent customer at the cafe and orders a parcel of egg-fried rice daily. He has a soft spot for Maya as he never expresses his feelings for her. Maya's life is turned upside down when her estranged husband, Ajit Mhatre (Saurabh Sachdeva), returns to her life unexpectedly. It causes a drastic situation that ends with a murder committed with Tara as her accomplice. Naren learns about the brutal crime and immediately becomes determined to protect Maya and Tara at all costs. He devises a foolproof plan using his logic as a mathematician to outsmart the authorities and keep the mother and daughter safe from being caught. But as Karan Anand (Vijay Varma), a cop from Mumbai, arrives at the town, Naren and Maya become alert to the increasing surveillance and suspicious behavior of the authorities. Maya has doubts as she feels threatened but Naren provides her with assurance. When a dead body is identified as that of Ajit's, the stakes become higher than ever as Maya becomes Karan's only suspect. The rest of the film moves forward with the investigation as Karan and Naren engage in a conflict where one outsmarts the other in every step.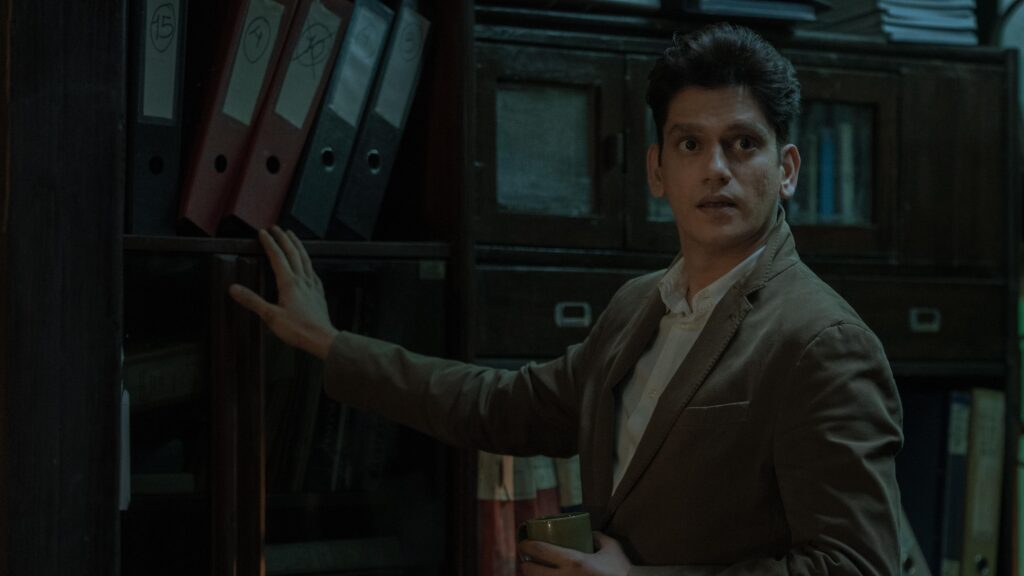 Jaane Jaan shows Sujoy's command over the content as an accomplished director with a strong vision and attention to detail. The way he has executed each of the scenes in the screenplay highlights his grasp on how to create a compelling narrative. But the way the plot advances is designed more to surprise us than to create curiosity and invest in the deceitful intentions of the characters. As Karan is trying to join the dots of how Maya has cooked up a clever plan to deceive him, he imagines a series of acts that have been orchestrated to commit the murder. It is a clever sequence where we move backward and forward, but it does not create any relevance for the viewers. The scene simply serves as a visual spectacle, adding little substance to the overall story. Similarly, when Maya tricks Karan into having dragon momos with spicy sauce, it leads to a situation where Karan finds an opportunity to take her out to a karaoke bar. Karan has dubious intentions behind the outing, to which Maya is oblivious. It becomes quite an unconvincing sequence that operates solely upon chances and not meticulous scheming. Even Maya's past of working in a bar in Mumbai has little to do with the plot except for one scene in the film where she sings Aa Jaan-E-Jaan from the thriller Intaqam (1969). It allows her to display her dancing skills with Karan, but nothing more. But more than that, a riveting thriller that resonates with the viewers should have a climax that exceeds their expectations. An ending they never saw coming leaves them in awe. A feat that Sujoy Ghosh had accomplished effortlessly with Kahani (2012). Unfortunately, eleven years later, he could not replicate the same level of brilliance with his recent outing.
Where the film genuinely shines is in the casting of the actors, who deliver their roles with such a level of authenticity and brilliance that it elevates the entire movie to another level. Kareena Kapoor, in her OTT debut, gives Mary D'Souza strength and helplessness in equal measure. She shines in her role and suppresses her star quality because she is part of an all-star cast. Vijay Varma, in the role of a cop who will not back down until he has brought the culprit to the book, brings an alluring charm and wit to his character. He has a strong screen presence that is peppered with a sober sense of humor. But among the trio of primary cast members, Jaideep Ahlawat steals the show as a devoted and idiosyncratic math teacher. His nuanced portrayal as a one-sided lover who can go to extremes to protect his love interest is compelling, leaving viewers eager to see more of his talent in future projects. The supporting cast, comprising Saurabh Sachdeva as Ajit Mhatre, Karma Takapa as Sundar Singh, and Lin Laishram as Prema, deserves a mention.
Multi-award-winning cinematographer Avik Mukhopadhyay captures Kalimpong with warm and gray tones to create an atmospheric experience of mysteries and secrets for the viewers that go with the essence of the storyline. He does not attempt to make the setting have a pictorial aesthetic but rather focuses on conveying an eerie and enigmatic ambiance. The characters are framed in a way that allows us to keep guessing what is going on in their minds. The fog that encompasses some of the scenes also adds to the mysterious atmosphere. From the beginning of the film, the editing by Urvashi Saxena creates an embellished rhythm that supports the flow of the narrative. The inter-cutting of the scenes back and forth adds a sense of tension and anticipation. The production design by Rajesh Choudhary, Madhumita Sen, and Ajay Sharma etches the mood of the film with perfect color and decor, thereby enhancing the mood of the film. The sound design by Anirban Sengupta subtly underlines the dramatic moments of the film. The background score by Shor Police (Clinton Cerejo and Bionca Gomes) also aptly complements the visuals, adding emotion and drama to the overall viewing experience.
While Jaane Jaan may not be a complete disaster, it falls short of delivering a truly satisfying cinematic experience. Despite its moments of persuasive performances and technical virtuoso, the film lacks the cohesiveness needed to leave a lasting impact. Therefore, viewers should approach it with tempered expectations to fully appreciate its strengths.