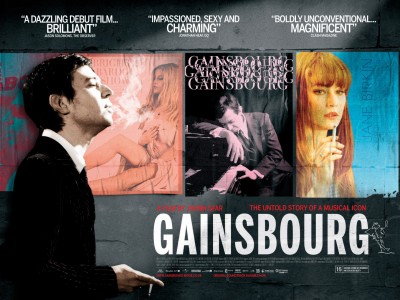 Click the image to get the high resolution ones.
It will surely be a treat for the eyes with some really good cast members. Gainsbourg is directed by Joann Sfar and stars Eric Elmosnino, Anna Mouglais, Laetitia Casta, Lucy Gordan and Mylene Jampanoi
The film is set to release on 30 th of July and is based on the true story of Serge Gainsbourg. Here is a small synopsis for the film. It had to battle quite a lot of distribution issues before finally getting a chance to be showcased in a theater.
From visionary graphic artist and director Joann Sfar comes a completely original take on one of France's greatest mavericks, the illustrious and infamous Serge Gainsbourg.
GAINSBOURG is an enchanting glimpse at his early life, growing up in 1940s Nazi-occupied Paris, and through his successful song-writing years in the 1960s until his death in 1991. Taking the best from LA VIE EN ROSE and AMELIE, GAINSBOURG is one of 2010's highly awaited films brought to us by one of the most beloved graphic artists of our time and the team behind the magical creatures of PAN'S LABYRINTH.