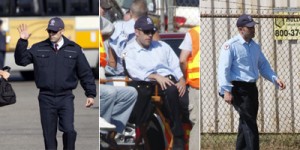 We have already talked about this film in detail over here. But I just love these pics from Affleck's new movie. The best part of it is he is directing the film. I know many of you might have missed the great Gone Baby Gone. He is surely one of the upcoming directors of our times. His style is truly unique and he has understanding of the voice of cinema.

Blake Lively seems to have jumped from the sets of Pippa Lee and entered over here. There is really nothing new she needs to bring to this role. But I think Ben Affleck will surely teach her nuances or two.
The film is based on the Chuck Hogan's novel and tells the story of a robber and a bank manager played by Rebecca Hall who fall in love. You surely could guess what happens next. But they part ways because of his criminal past. Jon Hamm plays a man torn between finding this robber and his love for the bank manager. This will surely take another turn for the director Affleck. These are some lovely pics from the film for your viewing pleasure.