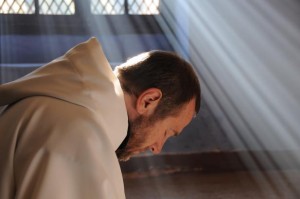 The trailer for this is something of a revelation. It will totally take you unawares. It was send as the official entry to the Oscars this year. It did not make the cut finally. The film is directed by Xavier Beauvois and it is called Of Gods and Men.
The French has voted it as the best film of last year. It already has 11 nominations, landing in pretty much every category including Best Picture and Best Director. It is based on a true story and set in Maghreb in the 1990s, the film focuses on the coexistence between a Christian monastery and the adjacent local village that is challenged by an influx of fundamentalist Muslims in the region.
'A stoic, stone faced, reverential tale about the sacrifices of faith and the extreme tests of tolerance', which was marred by glacial pace and self righteous air and will be something to look out for in the coming weeks.
The film opens on Febraury 25 th. Here is the synopsis.
Eight French Christian monks live in harmony with their Muslim brothers in a monastery perched in the mountains of North Africa in the 1990s. When a crew of foreign workers is massacred by an Islamic fundamentalist group, fear sweeps though the region. The army offers them protection, but the monks refuse. Should they leave? Despite the growing menace in their midst, they slowly realize that they have no choice but to stay… come what may. This film is loosely based on the life of the Cistercian monks of Tibhirine in Algeria, from 1993 until their kidnapping in 1996.