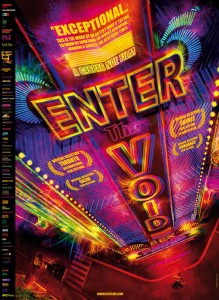 Click the image to get the larger one.
The controversial film took it's time to get into the theaters in the US. The film is directed by Gasper Noe. It is great cerebral piece. But is it worth the trip? There have been a lot of mixed reports from all the people associated with it.
The film is a psychedelic head rush of images and about a recently deceased drug dealer in Tokyo who watches over his sister as a ghost.
The film follows Oscar who lives in Tokyo and has saved enough money through drug dealings to reunite with Linda. But Linda becomes a stripper and gets into a relationship with her boss. Oscar clearly disapproves of their relationship, while Linda disapproves his addiction.
The film shifts to an aerial view after the police accidently kill Oscar. This is the head trip which many people were really not interested in. Check out the trailer over here and tell us what you think of the new poster.
Source: Vulture