Debutant Fazik Razak's Malayalam film, Thadavu, chronicles the life of an underprivileged woman, Geetha (Beena R. Chandran), as a lost soul who invariably gets discarded due to her lack of wealth and mental stability in a pitiless society that neither cares for nor wants anything to help her get rid of her woes. Though the world she inhabits is not just filled with evil creatures, there are a few beacons of hope and kindness that shine through the darkness. But the tolls of misfortune on her are so heavy that she must confront her circumstances and find the hardiness to carry on. She is compelled to fight to maintain even the most meager standard of living; she never backs down and always finds a way to overcome obstacles.
The director dramatizes Geetha's emotional highs and lows across the film, by putting her in one difficult situation after the other and the threat of a relapse into a pathological seizure to generate low-key suspense. The realist feel in the treatment of the film is integrated into the naturalistic flow of incidents by their overall sensitivity to social and economic actualities and by the generally credible performances of the actors. The socio-economic aspect supports this tale of the vulnerable individual who gains strength and confidence by fighting her corners, showcasing the power of resilience and determination in the face of adversity.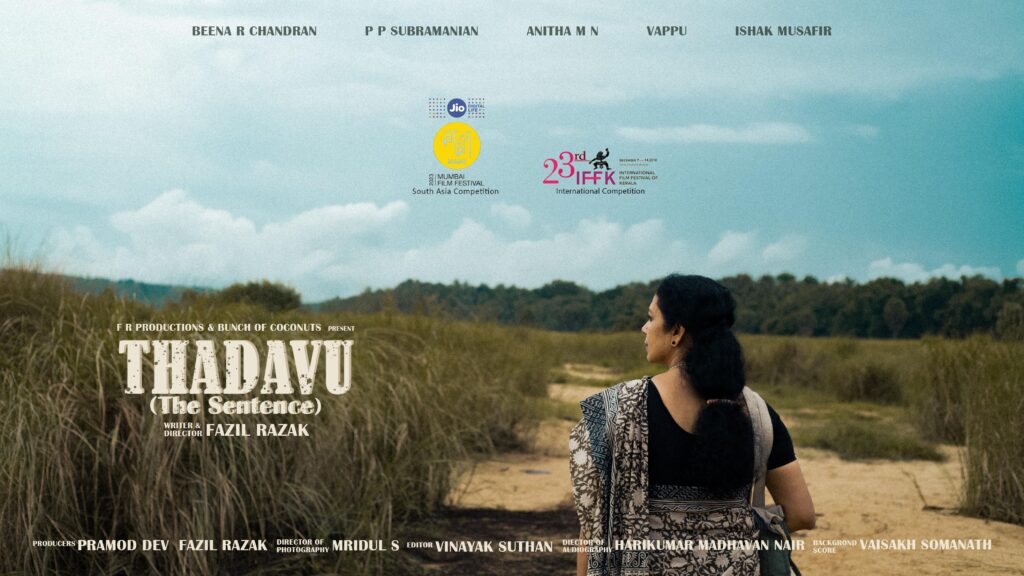 The protagonist of the film, Geetha, is a woman in her early fifties who is a two-time divorcee who has a history of postpartum depression. From her previous marriages, she has given birth to two daughters, and currently, she is fighting to regain custody of her younger daughter from the second marriage. However, due to a lack of money, she is not able to afford a lawyer to help her in the battle. Hamza and Uma are her two confident supporters who constantly help Geetha cope with one difficult situation after another. They offer emotional support and guidance, but Geetha still struggles to navigate the difficulties of her life, which also include a brain tumor. Working as a playschool teacher brings her a sense of purpose and fulfillment, allowing her to temporarily escape the difficulties of her life. But one day, a charitable act takes a drastic turn due to the carelessness of a co-worker, resulting in a situation that adds further woes to her already troubled existence. She not only loses her job but also had to sell her house to avoid legal punishment. She starts to work as a gas station attendant. But her health keeps degrading, and when she gets to know that jail inmates receive free medical treatment, she hatches a plan with her friends. But life has other plans for her.
From the beginning of the film, Geetha is shown struggling with her situation, as she has invited the wrath of a co-passenger on a bus crowded with people. She has occupied a seat and engages in a non-verbal fight to defend her right to sit there. For the rest of the film, Geetha continues to grapple with the consequences of standing up for herself and navigating the tensions that arise from asserting her autonomy, despite facing challenges and backlash. In another scene, the camera stays longer on the shot of a makeshift kitchen in the play, indicating the immensity of danger that is about to follow. The screenplay of the film introduces characters like the co-passenger and the bank robber in several scenes to highlight how destiny plays a significant role in shaping the course of their lives. Geetha finds solace and at times pacifies her troubling mind after swimming in the water. It becomes a gesture that serves as a medium to keep herself afloat and find endurance in the face of hardship.
The choices that Geetha makes in her life also raise an ethical dilemma that evokes a moralism about whether she is a character to be empathized with or judged. At the petrol pump, she refuses to give change to her second ex-husband, Madhavan (Prasad), unless he creates a ruckus. Despite court orders, she visits her daughter and further annoys Madhavan. As the film ends, it might feel like the battle she has been fighting for so long was worth it. But has she won it, or has she just found a temporary truce? That remains at the core of this heartfelt and humane film. There are also moments in Thadavu that feel forced and unnatural. Hamza listening to the voice message of the government taking care of the prisoner Moidu in front of Geetha could have been handled more smoothly and convincingly. The re-appearance of the bus co-passenger becomes repetitive after a while. Even a mother forgetting her child on the bus is not convincing enough for the sake of dramatic effect.
The cinematography by Mridul S is mostly handheld and gives off the perfect feel of instability in the life of the protagonist. It is unsettling yet captivating at the same time. The editing by Vinayak Suthan juxtaposes the ellipsis in the film with a rhythm that contributes to driving the intense moments and drama of the film forward. The sound design by Harikumar Madhavan Nair relies on the ambient surroundings to uplift the reflective approach of the story, and the art design by Vinayak Suthan and Ishak Musafir has delicate details of real and authentic settings. The background score by Vaisakh Somnath is sparsely used to create a fluid and evocative atmosphere.
Performance-wise, Beena R. Chandra brings a mix of determination and a sense of futility to the character of Geetha, and in most of her screen time, she manages to grab the audience with her riveting performance. But somehow there is a sense of passivity in her expression that leaves the viewers wanting more emotion from her character. Subramaniyam as Hamza and Anitha as Uma do a worthy job of supporting the lead actress. Prasad as Geetha's aggressive husband, Madhavan, also brings a convincing performance to the screen. Vappu as Moidhu, with his unpredictable antics and layers of mysteriousness in his expression, makes him a memorable character. 
Thadavu's stripped-down, devoid of melodramatic feel is brought to life in a raw and engaging manner, balancing emotions with subtle nuances. However, there is a lack of cohesiveness in weaving together the narrative events more effectively, and some soap opera-like moments transiently impede the film's attempts to reach heights of emotional resonance. Despite such deterrents, Thadavu never falls short of delivering an experience that is not instantly impactful but gradually seeps into our thought process and appreciates the filmmaker's storytelling abilities.