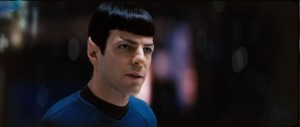 The actor has just confirmed that the planned sequel for Star Trek is a go ahead. The film will be shooting the next summer and not in January. Zachary Quinto will be reprising the role of as the young Spock.
He had this to say to MTV:
"I can't wait to go back." "We have a while until we're going to do another one. It probably won't be until next year at this time. I know there are sort of erroneous reports that we're going back in January — not true, as far as I know."
There is also a chance of a new director coming on board for the franchise. So that would mean we won't get to see J.J. Abrams directing the film.
"I would obviously love to see J.J. be directing every Star Trek movie that I'm ever affiliated with, but if it's not the case I'm sure that whoever does will be someone that he has chosen and that he believes in for whatever reason."
This is what Zachary had to say.
J.J Abrams is currently writing the film with his co writers Alex Kurtzmann, Roberto Orci and Damon Lindelof.