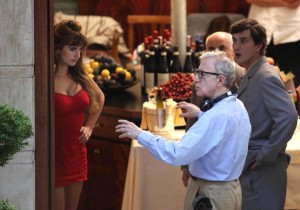 Nero fiddled will be the next offering from the master Woody Allen. So it means we will not get to see the movie at the Cannes Film Festival this year. It will be part of the Venice Film Festival. So it will be something to watch out for after his Oscar winning turn in Midnight in Paris.
The cast is to die for with Alison Pill, Alec Baldwin, Roberto Benigni, Jesse Eisenberg, GretaGerwig, Ellen Page, Judy Davis, Penelope Cruz. This is surely going to a dazzling feat. The film will be made of four vignettes, with two in English and two in Italian. There are loads of reports on this front but nothing is still confirmed. So he will be playing with our expectations till the release date.
The film is expected to hit theatres on June 22 nd. Tell us what you think of the cast and the work of Woody Allen. It will be fun to see if he can pull another winning rabbit from his hat.