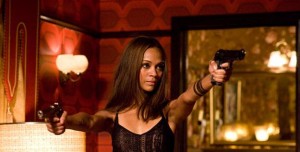 There have been several TV spots these last couple of days. Zoe Saldana is back in action with her next Avatar in Losers. We have already shown the first trailer for the film. This TV spot is basically a 30 second condensed version of that. There is very little new footage in this new clip.
The film will turn out to be one of those run of the mill action thrills with a little more style. It is film about a special forces team seconded to the CIA in the 90s, The Losers were betrayed by their handler, Max, and left for dead following the conclusion of their operation.
Eager for revenge and the opportunity to remove their names from a secret CIA death list, the Losers regroup and conduct covert operations against the CIA and its interests, uncovering startling operations spearheaded by the enigmatic villain Max, whose influence within the CIA and US government is unparalleled. The Losers is directed by Sylvain White and will hit theaters on April 16 th 2010.