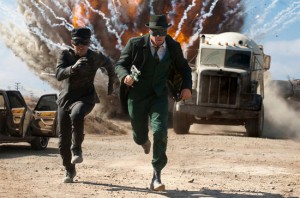 Yahoo has probably got the best deal with some good trailers coming out this week. Sony Pictures has just given them the rights to the new trailer for Michel Gondry's film The Green Hornet. The film stars Seth Rogen and the lovely Cameron Diaz. It also stars Jay Chou, Christoph Waltz and Michael Pena.
The project is a blockbuster comedy and it has a very generic feel to it. Here is the official synopsis of the film below.
Britt Reid is the son of LA's most prominent and respected media magnate and perfectly happy to maintain a directionless existence on the party scene until his father dies. This is when the story takes a turn and he becomes a boring super hero.
Using all his ingenuity and skill, Kato builds the ultimate in advanced retro weaponry, The Black Beauty, an indestructible car equal parts firepower and horsepower. Rolling in a mobile fortress on wheels and striking the bad guys with Kato's clever gadgets, The Green Hornet and Kato quickly start making a name for themselves, and with the help of Britt's new secretary, Lenore Case, they begin hunting down the man who controls LA's gritty underworld: Benjamin Chudnofsky. But Chudnofsky has plans of his own: to swat down The Green Hornet once and for all.
The film is expected to hit theaters on January 14 th 2011.