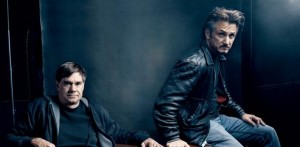 Sean Penn is interested to play the story of literary editor Max Perkins. Bill Pohlad the producer also wants him on the project. He is the one who helped Sean Penn get finances for his directorial venture called Into The Wild. He also was an executive producer on The Tree Of Life.
The script was written by John Logan is an adaptation of Nation Book Award winning biography called Max Perkins: Editor of Genius. Here is a small synopsis of the film via Comingsoon.
MAX PERKINS: Editor of Genius by A. Scott Berg took the literary world by storm upon its publication in 1978, garnering rave reviews and winning the National Book Award. A meticulously-researched and engaging portrait of the man who introduced the public to the greatest writers of this century, Berg's biography stands as one of the finest books on the publishing industry ever written. Unavailable for the last few years, MAX PERKINS is now being re-released (on the fiftieth anniversary of the great editor's death.
The driving force behind such literary superstars as F. Scott Fitzgerald, Ernest Hemingway, and Thomas Wolfe, Max Evarts Perkins was the most admired book editor in the world. From the first major novel he edited(Fitzgerald's This Side of Paradise(to the last(James Jones's bestselling From Here to Eternity(Perkins revolutionized American literature. Perkins was tirelessly committed to nurturing talent no matter how young or unproven the writer.
Filled with colorful anecdotes about everything from Perkins's struggles to convince the old guard at Scribners to publish his visionary (and often controversial) authors to his falling out with one of his most brilliant discoveries, Thomas Wolfe, MAX PERKINS reveals with insight and humor the professional and personal life of one of the most legendary figures in the history of American publishing. Given unprecedented access to the correspondence between Perkins and his writers, Berg has fashioned a compellingly thorough biography that is as entertaining as it is informative.
A vivid portrait of one man's life and a revealing behind-the-scenes look at the creation of literature, A. Scott Berg's MAX PERKINS: Editor of Genius is a masterful achievement in scholarship and writing.
This will be an extraordinary role for the star that is really looking out for another role to define his career.