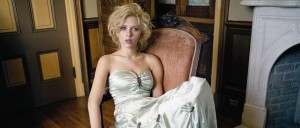 There has been a lot of news on David O' Russell next film called The Fighter. He has already made the finishing touches for his next film Old St. Louis by getting the whole Hollywood buzzing about the story. Vince Vaughn is already signed on to star in the film. There were also talks about Chloe Moretz to join the project.
Now there is some news stating that Scarlett Johansson wants to join the wild party.
Johansson has been contacted to play a paramour, a secretary who accompanies them on their cross country sales jaunt. She will join the father and daughter pair in the film. Vaughn plays a travelling salesman who has been an absentee father, and how his life changes when his daughter becomes a part of his life.
The film is not based on an original script. It was called Toy Men for a while and it looks like Columbia might buy the rights to the book. There will be couple of rewrites before the film will begin shooting.
The whole script has finally gone through a major rewrite and David O' Russell has taken the credit for the film. This will be another great project from the messy mind of Russell.
Source: Vulture