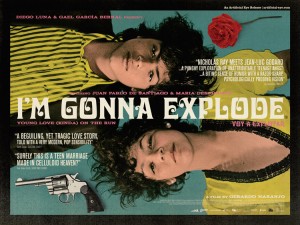 We have released the trailer for this movie some time back. It looked really exciting. Diego Luna and Gael Garcia Bernal took on producing duties for this visceral thriller.
It tells the story of Roman and Maru who are two trouble teenagers who attempt impossible rebellion against the adult world. They both are partners in crime who decide to disappear together to a place where they don't have to answer to anyone. It seems like a contemporary version of Bad Lands.
The two of them run away from trouble only to risk their lives. They run away from trouble at home and tediousness of everyday live and set up a make shift camp where no one will know where they are.
The film I'm Gonna Explode is directed by Gerardo Naranjo. It is expected to come to the US sometime in November.