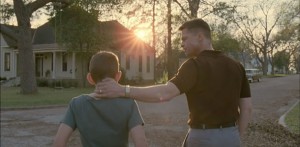 Terrence Malick's films is still doing the rounds at 4 theaters in America. The new film Tree of Life is something of a marvel and we will be catching it soon. It will be a film we will like to catch couple of times in the coming weeks. The film requires multiple viewing to bask in all the glory of it.
RopeofSilicon has gotten hold of 4 new clips from the film. The film is said to tackle the big question of the cosmos and why we are here. These clips gives us a window into the relationship between the father and the son in Tree of Life. Hunter McCracken is also an actor to look out for in the next couple of years. There is also some footage of Sean Penn from the film.
The Tree of life will open in New York and Los Angeles on May 27 th, and will continue to expand through June and July. Tell us what you think of the clips above.