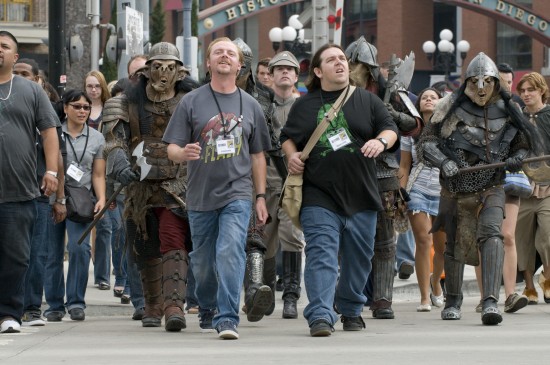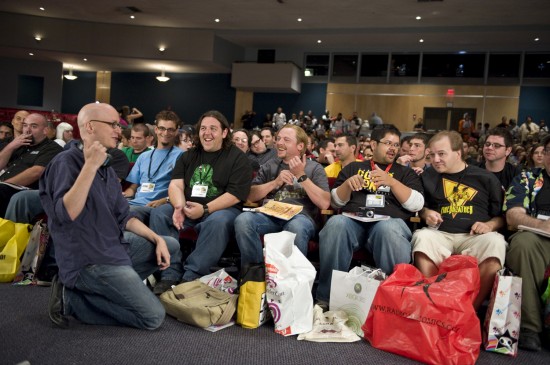 Click the images above to get the high resolution images.
Greg Mottola has been hard at work on his next film titled Paul. It is about a pair of British nerds played by Simon Pegg and Nick Frost on a road trip from Comic Con to Roswell. Along the way they find a real alien named Paul and this already sounds hilarious. These adventures will pure pleasure for the realists.
Comic Con will be a small part of the film. There have been couple of pictures from the film which have surfaced. So they have worked on recreating the atmosphere of Comic Con in the set. Pegg and Frost write the script of the film. So there is surely going to be a lot of cinema references put into this film.
Simon Pegg also said that this is not going to be like the older the films where the two of them were seen like Shaun of the Dead and Hot Fuzz. There is also talk about the fact that Nick Frost might take up a bigger role in this.
Graham [Pegg's character] is a bit more messy, less proactive. Paul's kind of like Ferris Bueller, you know, he kind of affects everybody around him and never really is affected himself.
Here is an official synopsis of the film.
Simon Pegg and Nick Frost (Hot Fuzz, Shaun of the Dead) reunite for the comedy adventure Paul as two sci-fi geeks whose pilgrimage takes them to America's UFO heartland. While there, they accidentally meet an alien who brings them on an insane road trip that alters their universe forever.
For the past 60 years, an alien named Paul (voiced by Seth Rogen) has been hanging out at a top-secret military base. For reasons unknown, the space-traveling smart ass decides to escape the compound and hop on the first vehicle out of town—a rented RV containing Earthlings Graeme Willy (Pegg) and Clive Collings (Frost).
Chased by federal agents and the fanatical father of a young woman that they accidentally kidnap, Graeme and Clive hatch a fumbling escape plan to return Paul to his mother ship. And as two nerds struggle to help, one little green man might just take his fellow outcasts from misfits to intergalactic heroes.
Paul is directed by Superbad's Greg Mottola, from a story by Pegg & Frost. Joining the comedy's cast are Jason Bateman, Kristen Wiig, Bill Hader, Blythe Danner, Joe Lo Truglio, John Carroll Lynch, David Koechner and Sigourney Weaver.