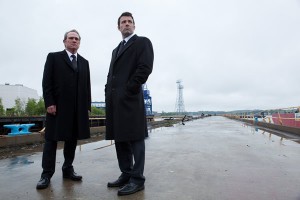 The Company Men have finally come out with some pictures with the stars in the film like Ben Affeck, Tommy Lee Jones, Kevin Costner and Chris Cooper. So the film is going to be a high action drama. Directed by John Wells, the drama revolves around three company men attempt to survive a round of corporate downsizing while trying to fend off its effects on their families and their identities.
Click here to get the larger images
Ben Affleck stars as a businessman whose life is thrown into ruin when he is affected by company layoffs and has to work at his brother in law's construction site. John Wells is known for his work on series like ER and The West Wing and took full control of latter after Aaron Sorkin and Thomas Schlamme left at the end of the fourth season.
This will also be part of some of the films that will be part of Sundance Film Festival on January 21st to 31st.