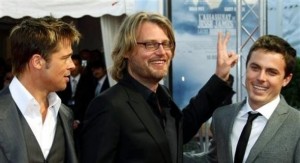 Andrew Dominik works on his next film after a brief hiatus. He will be working on the novel by Harlan Coben called Tell No One. The original film was directed by Guillaume Canet and was a big hit in Europe. The Hollywood machine is out to destroy it.
Miramax picked up the rights for the film, but they lost out on the rights to Focus Features. They have now employed Andrew to write the screenplay for the film.
He will be reworking the story. Here is a small synopsis from the original film.
Eight years ago, pediatrician Alexandre Beck (François Cluzet) was the prime suspect in his wife's murder. He's put all that behind him, but now that two dead bodies have been found near his home, he's suspected of wrongdoing once again. The case takes an unexpected turn when he receives an anonymous e-mail showing his wife alive — and eight years older — instructing him to "tell no one." Kristin Scott Thomas co-stars.
Andrew Dominik's involvement in the project is not really good sign. He is presently working on the pre production work for his next film biopic with Naomi Watts on Marilyn Monroe. So a film remake will certainly not be the right direction for Andrew. He should get over this as soon as possible and get back to work on his own project.
Source: LA Times